Now offering a complete bolt in solution for your problem plagued carbureted engine. Say goodbye to hard starting, rough running, low power and stay all genuine Toyota to preserve the retail value of your Landcruiser.

This kit fits all 1958-1992 Toyota Landcruisers that originally had a F, 2F or 3F carbureted engine.
A Toyota Landcruiser 3F-EFI gasoline engine conversion. Complete kit only $2,500- / The engine used is removed from a 1988-1990 Toyota Landcruiser. After we get a placed order we pull the engine, get compression information and mileage for you. Engines used for the conversion kit are in the 100k-150k mileage range. Takes roughly 2-6 weeks from the date of your order before it ships.
A rebuilt engine adds $2,000 to the total price and 6-8 weeks to the total delivery time. Rebuilt engines are a rebuilt long block, not the external accesories. New/Rebuilt external accesories can also be supplied for additional money. Please plan accordingly.
A brand new engine adds $7,500 to the total price. A NEW engine is as the below stock picture: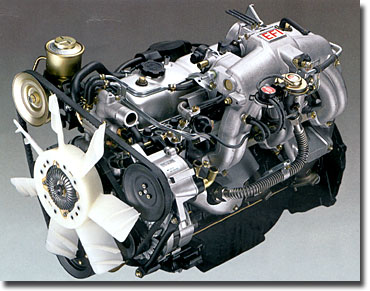 Includes the following:
1988-1990 Toyota 3F-EFI engine assembly / Installs in place of original F, 2F or 3F / This is a USED (Not cleaned) engine.
Computer / Install inside or below glove box.
Mass air flow sensor with air filter adapter
Custom wiring harness and relays. / Lays out inside engine compartment. Requires some taps into existing electrical system.
Uni Filter Air Filter for smog pump on the intake side.
VSV Filters x 2
Gas pedal and throttle linkage. Must custom mount to 40 series firewall. Direct bolt in on 60 series.
Fuel Pump Inline Style / Mounts between battery tray and the charcoal canister. Or along frame rail.
Coil/Igniter / Mounts in place of factory coil/igniter on passengers fender.
Air intake Hose set, you can use in a few different configurations.
FJ62 ABV Valve / VSV Unit / Mounts directly on drivers side fender in existing bolt holes.
Down Pipe Set with O2 sensors / Exhaust shop can fabricate from these. These are included for flanges only.
Emission control components can remain hooked up and this is a 50 state smog legal engine.
---------------------------------------
Your original transmission clutch and bellhousing will bolt directly to this engine.
The engine mounts will bolt in directly. No welding or cutting!
=============================
Some stuff we can leave installed and you can hook up when you bolt it in.
Power steering Pump = $100
Air Conditiong Compressor = $100
=============================
e-mail tech support included. Please allow 2-3 days before a response. We DO NOT offer technical support via phone. There are no instructions included.

Use our secure online order form if you want to place the order right now!

Or call us: 888-941-3450
Or email us any other questions.
=============================
1972 FJ40 3FE Conversion / 4spd manual trans.
1979 FJ40 3FE Conversion / 5spd H55F manual trans.
Helpful installation pictures.
Black & Blue wire to back of the fuse block.
Radiator shroud for 1975 and newer FJ40 lowered 1.5"
Wires through firewall
Toyota Stock Photo of a New 3F-EFI engine.

Custom wiring harness done up. We do not install the sleeving as most customers sometimes like to do custom wiring runs.This is available as a seperate item for $750.

Installed into FJ60 with all FJ62 conversion parts.